Bonnie Z. Goldsmith has worked in the field of education throughout her professional life. She has wide experience as a writer, editor and teacher.



Books by, about, and for children with learning disabilities offer elementary-aged kids valuable stories and guidance written especially for them. Check out the following books, a mixture of fiction and nonfiction, when you want to give your child something special to read.


Worst Enemies/Best Friends
by Annie Bryant
This is the first of many books in the popular
Beacon Street Girls
series about five middle-school girls, one of whom, Maeve, has dyslexia. Maeve, who has a math tutor and is consistently disorganized, joins her friends in stories created to help girls build self-esteem and coping skills.
Spencer Allen Douglass, known as Sparky, keeps a diary that records his ups and downs as he lives with ADD. This optimistic and fun book includes many valuable insights and ideas for children with ADD and ADHD.
Joey Pigza Swallowed the Key
by Jack Gantos
The first book in an award-winning series about a boy with ADHD, this story shows an out-of-control Joey being transferred to a special education classroom in another school. A perceptive teacher recommends further medical evaluation, and Joey returns to his former school. These funny, compassionate books are written from Joey's point of view in a sharp, worried style that veers out of control when Joey does.
How Dyslexic Benny Became a Star
by Joe Griffith
Fifth grader Benny is frustrated and embarrassed about his struggles with reading. When he becomes a star on the football field, and when he is diagnosed with dyslexia, he discovers he has a powerful support system – his own personal team. It's an inspiring story for the whole family.
The Gift-Giver
by Joyce Hansen
This is the first book in the 163
rd
Street Trilogy, which features a vibrant inner-city setting and a boy, Yellow Bird, who has dyslexia. His peer tutor, Doris, doesn't like him at first, but ultimately becomes his advocate and helps his teacher realize both his reading problems and his unique talents.
How Many Days Until Tomorrow
by Caroline Janover
2001 Parents' Choice Award winner, this book is about Josh, a twelve-year-old with dyslexia who spends the summer on a remote island in Maine with grandparents he hardly knows and his older brother Simon, who is a terrible tease. In a dramatic and life-threatening situation, Josh learns he is just as smart as his "gifted" older brother.
Shelley the Hyperactive Turtle
by Deborah Moss
Shelley is a turtle who happens to have a very hard time sitting still. During a visit to the doctor, he learns that he is hyperactive, and that he can take medicine to control his wiggly feeling. The colorful illustrations help to explain the physical and emotional aspects of having a disability in a reassuring and positive way.
Thank You, Mr. Falker
by Patricia Polacco
In this richly illustrated, semi-autobiographical book, Trisha is thrilled to start school and learn to read. But she has dyslexia, and her classmates tease her relentlessly. Finally, Mr. Falker, her fifth grade teacher, recognizes Trisha's problem and her artistic ability and takes the time to lead her to reading.f
The Lightning Thief
by Rick Riordan
Book 1 of the adventure series
Percy Jackson and the Olympians.
Percy, who has been diagnosed with ADHD and dyslexia, knows he's different. When a teacher becomes a deadly monster and his best friend turns out to be a satyr, he learns how different he is: he's the half-blood son of an Olympian god.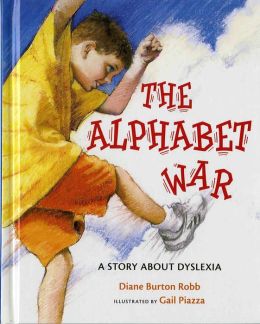 The Alphabet War: A Story About Dyslexia
by Diane Burton Robb
Once Adam enters school, his love of books becomes a daily battle that he truly believes he cannot win. It isn't until third grade that Adam, now suffering from low self-esteem that leads him to behave aggressively, is tested for a learning disability and receives the specialized help he needs. Adam's experience will inspire and encourage many children who find themselves in similar predicaments.
Many Ways to Learn: A Kid's Guide to LD
by Judith M Stern and Uzi Ben-Ami
This book provides easy-to-use tips, information, and strategies to help children with learning disabilities feel better about themselves. The guide includes information on how to involve counselors and parents as a supportive "climbing team," and ways for children with various kinds of learning disabilities to set goals.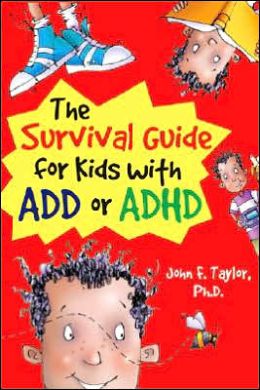 The Survival Guide for Kids with ADD or ADHD
by John F. Taylor
Packed with good advice, this guide features clear, kid-friendly writing and cartoon-style illustrations. Chapters cover such topics as medications, getting along at home, making friends, and succeeding at school.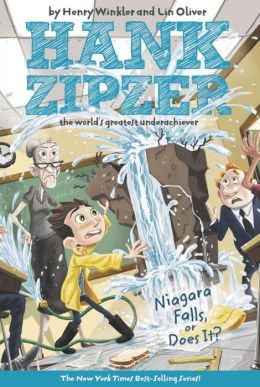 Niagara Falls, or Does It?
by Henry Winkler
The first book in a series inspired by the true-life experiences of Henry Winkler. Hank Zipzer has difficulty reading, writing, and spelling, but his imagination is in full working order. Hank is funny and endearing, the books enjoyable and fast-paced.
Article retrieved from:
Images retrieved from: http://images.emusic.com/books/images/book/0/100/166/10016680/300x300.jpg,
http://ecx.images-amazon.com/images/I/61L5QI2bEoL._SL500_AA300_.jpg,
http://ecx.images-amazon.com/images/I/517g5RruLML._SY344_BO1,204,203,200_.jpg,
http://www.teachingbooks.net/content/ingram_images/9/0965937909.gif,
http://ecx.images-amazon.com/images/I/51TQ6Ver9hL.jpg,
http://www.janover.com/images/howmanydays_cover.gif,
http://www.sonic.net/~lilith/echolalia_press/shelley.gif,
http://www.teachingbooks.net/media/bookimages/covers/Thank_Cover.gif,
http://thiskidreviewsbooks.files.wordpress.com/2011/02/thief1.jpg,
http://img2.imagesbn.com/p/9780807503027_p0_v1_s260x420.JPG,
http://fhautism.com/images/watermarked/detailed/0/Many_Ways_To_Learn_A_Kids_Guide_to_LD_Second_Edition-autism-978-1433807398.jpg,
http://img2.imagesbn.com/p/9781575421957_p0_v1_s260x420.jpg,
http://img1.imagesbn.com/p/9780448431628_p0_v4_s260x420.JPG